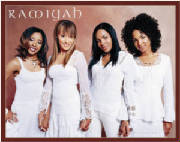 (courtesy of Columbia Records)
Blowing up the spot for this season is, Ramiyah. An energetic group of young women willing to shake up the Christian industry with the power of a Mainstream girl group. Backed by Matthew Knowles, the force behind Destiny's Child, Solange, Kelly Rowland, Michelle Williams and Beyonce, these Detroit ladies look to be the best thing to happen to Christian female ensembles since the debut of Out Of Eden.

LaZeric: How do ya'll define Christian music?

Ramiyah: We define Christian music as uplifting,encouraging and a great way to exalt GOD!

LaZeric: Being that you ladies are backed by Matthew Knowles, your ministry is getting more exposure than the average Christian "girl group". Has that been at all overwhelming?

Ramiyah: Ramiyah looks at being backed by Matthew Knowles as more of a blessing and a privilege than overwhelming! One of our mottos is to reach the city,nation and the world for Jesus Christ so what better opportunity than to be
attached to a "powerhouse" in the industry.

LaZeric: On the Stellar's and The Bobby Jones Show, you're basically ministering to Gospel folk. But at the Trumpet Awards, you were performing for a predominately Mainstream audience. Do you anticipate having to adjust your performances to different audiences?

Ramiyah: We pray that wherever we go or whoever we minister to, that Jesus Christ is the head of our message and invited into every performance. Therefore, it doesn't matter what [type of]audience [we're ministering to] its all about Christ!

LaZeric: How would you encourage young artists who are big locally,but can't seem to get any love from record labels? Can/should a group rock just as hard without a contract?

Ramiyah: Definitely. We worked just as hard before our record deal as we do now. Your work ethic must start high and go higher. In addition, get with someone who is experienced in the industry so they can lead you towards a
good record deal. For Ramiyah it was the assistance of PAJAM(our production team).

LaZeric: There's a lot of music out in the mainstream. Some good, some not so good. If you could pick one album from the Christian industry that you wish you could play for a group of unsaved kids (besides your album), what would it be?

Ramiyah: Well, we have so many that we can't name just one! You have the great music of Mary Mary, Fred Hammond, and Kirk Franklin who all have the ability to reach the saved and the unsaved.

LaZeric: Where would you like to see Ramiyah in 10 years?

Ramiyah: We would like to see Grammy's in Jesus name. Knowing that our message has [influenced]the world in [a]powerful way and still singing and living for Christ.

LaZeric: Ya'll worked with the incredible PAJAM crew on your current project, as well as Karen Clark Sheard, Kierra Sheard and Dorinda Clark Cole. What artists/producers would you like to collaborate with in the future?

Ramiyah: Again we have soooooo many artists/producers that we admire so wherever God takes [us]we will be happy and grateful!

LaZeric; Thank you for takin' the time out ladies and continued success.

Ramiyah: Thank you for the opportunity and your support. God bless.